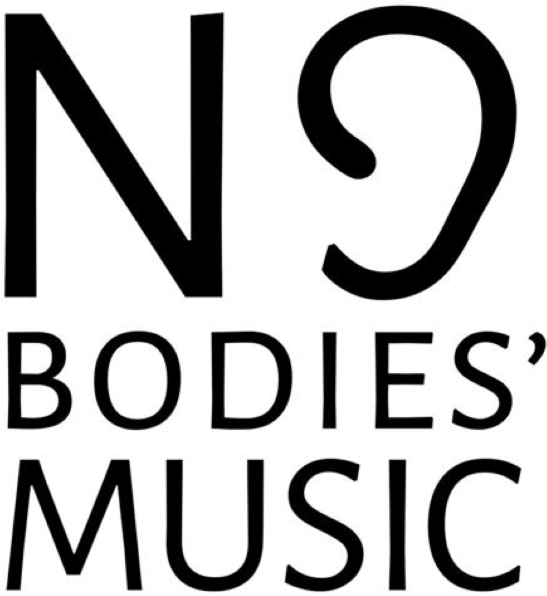 "Hungarian folk music is my native language"
Interview with Szilárd Mezei
Szilárd Mezei is a Hungarian composer and musician. He was born and lives in Serbia. He's a member of the Composers' Association of Serbia. He not tours much, but records a lot with different bands — from trios to large ensembles. Following Witold Lutosławski and Anthony Braxton he is searching forcomposition and improvisation. Szilárd Mezei won several prizes for his music for theatre and choreography, including Sterija Prize and Joakim Vujic prize. He played with Barry Guy, Hamid Drake, Tim Hodgkinson, Charles Gayle and many others.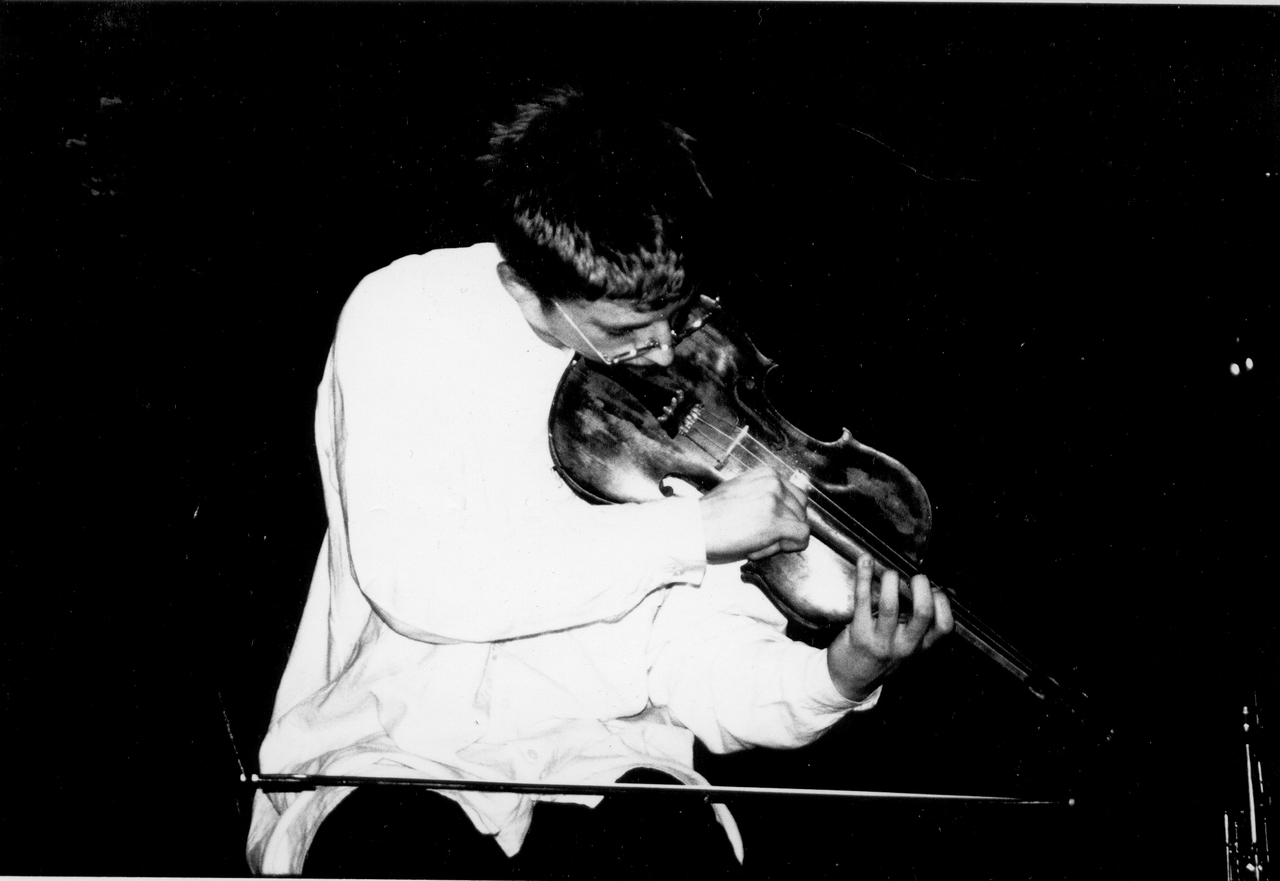 Viola is rather rare instrument in contemporary improvised music. Why viola?
I learned to play violin in primary and secondary music school, and after I studied composition on Music Academy in Belgrade. I switched to viola in 1998, because I felt, that violin is to much virtuoso and too much "brilliant" instrument for me, and I felt that I can better to play the music I imagine on viola, which is somehow a bit handicap instrument because the small measure, but have some sound, which I like very much.
What other instruments do you play? Maybe some folk ones?
I play occasionally, and almost only in solo (sometimes in duo) on double bass, and very rare on koboz and oud, authentic Hungarian folk music.
Your music spreads in three different directions: composed music, improvised music and folk music. Can you tell us how have these parts come into your life? Are there some other great blocks in your music?
First of all, I don't like to separate these — let's say — three directons in my music. All of them are fundamental in my thinking about music. Composition is my profession, improvisation is the fundament of every music, and Hungarian folk music is my native music language.

You did not mentioned Jazz music, but it is also very important — in a way, that so called jazz music can organicly integrate these music directions. What I wanted to make, an organic music, which cannot put in any drawer, which music can have very serious messages, good feelings for any listener, and in the same time to speak in serious musical language. I know, that it is a bit ideal, but that is my intention always and anyway.
You are one of the most productive musicians on european scene. Such a huge amount of records and compositions demands a concentrated organisation. How is it combined with easiness of music? What is a psychology of your music?
Honestly, I don't think, that I'm the most productive musician, composer in European scene. I think, that have these recordings is something normal, if someone works seriously, and try to realize the musics he/she want. I would be more happiest musician, if I would have more opportunities to play my music — my compositions with my formations, and my impovised music with my instrument with various great musicians — more offtener in live concerts in my country, abroad and in some festivals in Europe, etc, instead to have a lot of releases... I think, that is the first paragraph of my philosophy of music.
Where do you get the inspiration? What music do you love to listen? Maybe, in other fields of art — literature, architecture?
I have inspiration from a lot of directions. Usually they are not first musically. I like a lot philosophy (among others: Kierkegaard, Ortega y Gasset, Hamvas, Jaspers), literature (among others Beckett, Dostojevsky, Bulgakov), poetry (among others Koncz, Sziveri, B. Pap, Weöres), fine arts (among others Giacometti, Cezan, Bicskei, my mothers work), social things (not actual-politics at all), etc. And of course, I have inspiration from musics, and from my musicians, from musicians with I'm playing and from musics which I'm listening. I can order some names, without completeness from Hildegard von Bingen until Anthony Braxton, in line with Duke Ellington, Thelonious Monk, Charles Mingus, Eric Dolphy, Warne Marshe, Lennie Tristano, Jimmy Giuffre, Mal Waldron, Steve Lacy, György Szabados, Evan Parker, Béla Bartók, Witold Lutoslawsky, György Ligeti, etc etc.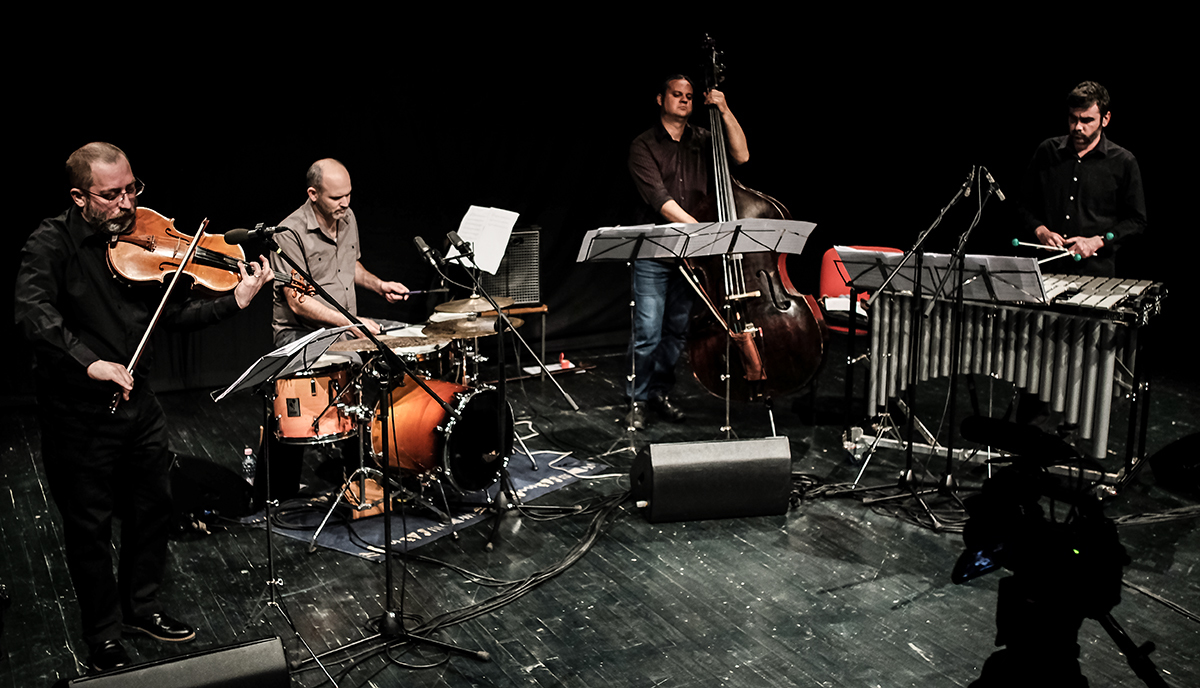 What is the history of the formation that would play in Moscow?
This Quartet-formation is pretty new, but not in the sense of musicians, because my oldest constant formation is the trio with István and Ervin (these two guys are the most important partners in my musical thinking), which is formed 19 years ago, and with Ivan we also play from 2003 in various bigger formations, and Ivan was always in my mind for some smaller formations, not only because of his playing, but because his very deep musical interesting and habit.

Playing these years with the trio I was always in trying to find a fourth person for the quartet. The trio formation is one of the perfect formation for playing, but after some times I needed to have one more person to have more opportunities in music. It takes a long time of thinking and trying. To have one more soloist insrument (reeds, trumpet, etc) or one more harmonic instrument (piano) also a good choice, but finally I found the idea to make a quartet with vibraphone (and of course Ivans playing), which is I think, a very good combination of percussion, melodic and harmonic instrument, and which can very good to cooperate with my viola and with bass and drums. That idea opens a lot of inspiration and doors of possibilities while composing for that formation.
You played with a lot of Hungarian and foreign musicians. Could you please tell about one of the collaborations most special to you.
Every new collaboration is very important to me. Playing with György Szabados, Matthias Schubert, Joelle Leandre, Albert Márkos, Róbert Benkő, István Grencsó, Máté Pozsár, Ernő Hock, with Nicola Guazzaloca, Tim Trevor-Briscoe, with Joel Grip and Sten Sandell, with Charles Gayle, with Frank Gratkowsky, Martin Blume, Barry Guy, Johannes Bauer, Martin Küchen, with George Haslam and Steve Kershaw, with Joe Fonda, Harvey Sorgen and Michael Jefry Stevens, Evelyn Glennie, Jon Hammersam, Antonio Borghini, etc. was a big pleasure.
Do you have a dream to play with somebody you haven't play before? Who is it and why?
I have a lot of dreams to play with Paul Lovens, Evan Parker, Phil Minton, Raymond Strid, Anthony Braxton...
Have you ever played with electronic musicians? Do you use electronics in your compositions or your own playing?
I never played with electronic musicians, that is not my couple of tea. Also I never used electronics in my music.
You have made some music for dance and choreography projects. What is the most interesting for you in such collaborations?
The very important part of my work is composing for theater, not only for dance and choreography, but for modern theater. I made till now more then 60 scenic music for theater pieces. I worked with famous Hungarian / French choreographer, Josef Nadj, also well-known in Russia, and with a lot of theater-directors in Serbia, Hungary, Slovenia, France, Roumania, Poland, Mexico.
Does it have any special difficulties? What comes first — music or movements?
Music for theater is for me a bit different than other music I work, but my intention is always to have organic relationship with the other segments in theater (text, decor, etc.) I beleive in that organic connection, and I'm always trying to keep up the dignity and importance of music in theater, like in ancient ritual theaters.
Your albums often have a very interesting and original drawn artwork. What's it's origin? Do you paint by yourself?
Usually — if I can — I use the graphic works of my mother for the covers of my albums. Her work is very important to me, her taste of esthetics in every field of life is always a starting point for me. I'm very bad in fine arts, drawing, etc., I draw only, sometimes, titles of my works, if I cannot find a good word or sentence for the titles of my composition, but these drawings are very simple. By the way, the titles of my compositions are very important to me, I choose them very carefully.
From other peoples point of view Hungarian language is very complicated and impossible to comprehend. Does it affect Hungarian music, what do you think?
Hungarian language and Hungarian archaic folk music are from the same root. For me the phenomenon, what is Hungarian folk music is some kind of my native musical language, and when I'm playing or composing, that music, that language is always present somewhere deeply in me, even if I'm not using concrete folk music (which I'm using very rare).
Have you been to Russia before?
Never.
What do you want to see in Moscow?
I never been i Russia before. I would like to see many places, things, but I'm afraid, that for this short trip I will be able to see only a few things. I'm a big fan of Russian culture, of Russian literatur (first of all Dostojevsky, Mikhail Bulgakov, Shostakovich, Nikolai Berdyaev, Andrei Tarkovsky, and even not Russian, but former Soviet Armenian Sergei Parajanov), so any way, it could be a nice meeting with the country of all these masters.